These Australian Symposium pages, on the "Art of Mushroom Dyeing" Website, are the result of efforts of many individuals – especially the staff of Green Skills who also had provided Bobi Ward, an attendee from Australia, with the camera, film and equipment to produce the many photos of the Symposium which you see here. Other attendees who generously contributed photos are otherwise noted. The project was funded in part by a grant from the International Mushroom Dye Institute to the coordinators of the Symposium who, with Katrina Syme, expressed their desire to invest the funds into the making of this Web Site.

It began as a vehicle to substitute for the "Show and Tell" conclusion part of the Symposium which in the end, we did not have the time to have. At that time each workshop leader would have taken about 10 minutes, to review their workshop and show the work created in it. Synopses by the workshop leaders would have been made available to all of the attendees. So now we have a virtual "Show and Tell" to share with you and many of those workshop synopses. It is a site that will be continually changing and updated as we add new photos and material from the busy workshop leaders and the Symposium staff. I accept all responsibilities for errors or mis-information and would appreciate hearing about any desired changes or corrections ASAP! Lastly, I would like to thank my Web Master, Debby Turner from Web Turner Consulting, for being so incredibly patient with my many and continual revisions!
Dorothy Beebee , USA
INSPIRATION
Inspired by Miriam C. Rice's first little book, "Let's Try Mushrooms for Color" (Thresh Publications, 1974) fiber artists around the world began adding mushroom dyes to their palettes of natural dyes. In order to share and exchange information and exhibit their new mushroom dyed fibre arts, in 1980, The 1st International Mushroom Dye Exhibit was held in Mendocino, California which coincided with the publication of Miriam's second book,
Mushrooms for Color (Mad River Press, 1980,).

Every two years since then, textile and fiber artists have gathered from all over the world to exhibit their mushroom dyed works of fiber art, exchange new ideas and teach workshops in dyes, paper-making and pigments made from fungi.
| | |
| --- | --- |
| These exhibits and symposia came to be known as the International Fungi and Fibre Federation and are hosted by different groups of textile artists around the world. Over the years, many Australian fibre artists have been attending the symposia, traversing long distances to the Northern Hemisphere, so now they were excited to be able to have a turn to host this event for the first time down in the Southern Hemisphere! | |
| | | |
| --- | --- | --- |
| | | |
| | 12-18TH JULY, 2003 | |
| | DENMARK COLLEGE OF AGRICULTURE | |
| | ~ DENMARK ~ WESTERN AUSTRALIA | |
| | by Katrina Syme, Australia | |
This is the first time this biennial international symposium was hosted in the Southern Hemisphere. It provided an excellent opportunity for Australian textile artists to explore a little-used source for natural dyes and hand-made paper. The week included a range of workshops, field trips collecting and identifying fungi in

different ecosystems, an exhibition of fungi-dyed textiles and paper made from fungi, presentation of new findings and talks and displays from representative countries. There was also an open discussion on conservation issues surrounding the world's fungal biodiversity.
FUNGI IN WESTERN AUSTRALIA

Western Australia's vascular plant flora is well documented, with

531,000 specimens representing 13,500 species held in the Western Australian Herbarium, Perth. In contrast, however, the fungi (whose numbers are variously estimated to be 7-10 times more than plant numbers) are represented by a mere 7,008 specimens.
An example of Australian vast fungal diversity was given during the Inaugural Fungimap Conference, held in Denmark in 2001 last year by Dr. Teresa Lebel (Royal Botanic Gardens, Melbourne), who said: 'In all of Europe there are approximately 50 genera and 150 species of truffles.

In Australia there are 85 genera described with some 300 species. Based on the rate at which we are finding new taxa during recent surveys, the predicted numbers are closer to 110 genera and 900 species'.

Fungi work conducted by us since 1991 is aimed at answering questions such as: the scale and patterns of distribution; factors determining the limits of distribution; habitat and substrate preference; are exotic species spreading into native forests?; the timing of the appearance of each species and what factors might affect this, and which species are managing to survive in remnant vegetation?
Mushroom Dyes go "Down Under"… by Dorothy Beebee

On July 12, 2003

, the 11th International Fungi & Fibre Symposium & Exhibition convened for one week, in the charming

village

of

Denmark

, in Western Australia. The location for the Symposium in Denmark, W.A. was the very modern and comfortable 4 year old campus of the

Western Australia

College

of Agriculture. This Symposium was organized under the creative leadership of a well-known Australian botanical artist, Katrina Syme, and the able coordination of Jessie MacIver, with the collaboration of the community non-profit organization of

Green Skills Inc

.

Since only about 15% of the Fungi of Australia have been discovered, classified, and named, the amazing diversity of this Australian venue provided exciting opportunities for many mushroom dyers of the of the Northern climes to work with entirely new fungal species for their dyes. No mushrooms were allowed to be

brought into Australia, and none were allowed to be taken out of the country without a special research permit obtained from the Department of Conservation and Land Management. Swatches of cotton fabric, wool, and silk yarns were used to dye rich browns, brilliant reds, vivid pinks, vibrant oranges, sunny yellows, shimmering golds, dark forest greens, and even some sky blue yarns could be found drying and waving outside the classrooms in the variable sun, rain and winds of the mild Australian winter.

Fiber artists traveled to the 11th Fibre & Fungi Symposium from all across the Australian continent as well as from the countries of Denmark, England, Finland, Norway, Scotland, Sweden, and USA. Many of these fiber artists have been attending these biennial symposia for over 20 years! Certainly one of the highlights of the Symposium was in the reunion with old friends met at previous Symposia!!!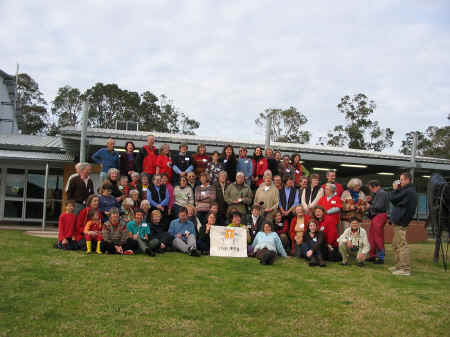 photo by Bobi Ward (Green Skills)
Group photo of the attendees of the 11th Fibre & Fungi Symposium
The 11th IFFS 2003 Australian Committee consisted of Katrina Syme, Elizabeth Wood, Jennifer Barter, Peggy Buckingham, Jessie MacIver (Symposium coordinator), Garth Wilson, Mavis Sowry and Bev Farrall, who were introduced by MC Louise Duxbury. Acknowledgment was made to the many Australian supporters and sponsors, including the Ian Potter Foundation, the Shire of Denmark, and the Perth Convention Bureau, in addition to all the innumerable helpers in Australia and from abroad.

The Symposium was formally opened by the Honorable Dr. Judy Edwards, Western Australian Minister for the Environment, and the President of Denmark Shire, Kim Barrow.

Following morning tea, lectures were given by CEO of Kings Park and Botanic Gardens, Perth, Dr. Stephen Hopper on the Biodiversity of Western Australia and its relictual Gondwanan species, and then Dr. Richard Robinson introduced us to the amazing diversity of Fungi from SW of Western Australia, some of which we were going to use for dyes and paper-making.


photo by Andreya Marks, (USA)
"The Honorable Dr. Judy Edwards, Western Australian Minister for the Environment, and the President of Denmark Shire, Kim Barrow."


photo by Bobi Ward (Green Skills)
"Dr. Stephen Hopper explained the biodiversity of Western Australia."


photo by Dr. Richard Robinson (Australia)
Dr. Richard Robinson holding
Ganoderma applanatum
The circle design was made using Mushroom paints and Myco-Stix developed by Miriam C. Rice .
© by Dorothy Beebee

Last updated 10/23/2003 7:40 PM Pacific Time