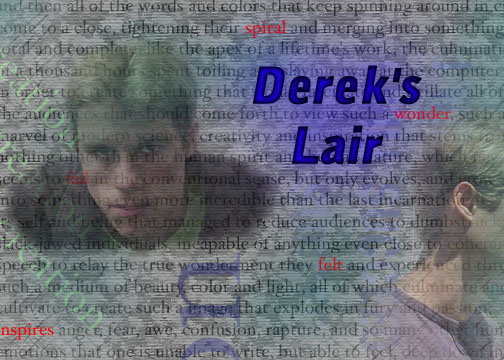 Welcome to The Derek's Lair News Section. I'm still planning on totally redoing the layout of the page, because I dislike the frames, and want something a little more professional-looking. Have faith, it'll happen.
Feedback is appreciated . . .
- Last Update: 3 / 7 / 02: This is the biggest poetry update that I've ever done. I added a ton more to Phase 8, and created Phase 9. Also, a few quotes.
- Last Update: 8 / 19 / 02: Mostly a poetry update, although there are a few quotes. I added a few poems to Phase 7 and then began Phase 8. An overhaul is coming, I promise.
- Last Update: 7 / 7 / 02: More poetry. There's probably more I could say, but I don't really want to.
- Last Update: 6 / 24 / 02: Because of a current event in my life, I've been writing a lot more poetry now. I've moved on to a new phase in the poetry section, and added 7 new poems.
- Last Update: 6 / 3 / 02: I put up a bunch of new poetry, some new quotes, and a new link. I also fixed a link problem on the stories page. Oh, and guess what? I discovered that I still have a guestbook. It went down around December 2000, and I just forgot about it. I checked it a few days ago, and it was functional again, still sitting there with pages and pages of signatures. Nifty.
- Last Update: 5 / 26 / 02: I sent today and yesterday cleaning up the clutter in my page and planning for a bigger makeover. I discovered some old things I had and rearranged some stuff. Hopefully there will be no broken links or image problems as a result of my moving stuff around.
- Last Update: 3 / 2 / 02: Most of the update is focused on the poetry section. There's an entirely new phase in the Poetry Section, and new title pictures for some old poems. I've uploaded 10 new poems, as well. I hopefully fixed a problem where people using Internet Explorer weren't seeing certain features of the text. I also added some new quotes.
- Last Update: 11 / 4 / 01: This was a large update, but it was almost all in the poetry section. I redid the area, split it up into different sections, plus added 11 new poems. The other things I did this update was put up some new quotes, new urls and a new link on the Links Page. Sorry, I never got around to writing that other, funny short story.
- Last Update: 9 / 17 / 01: Small update. I added a new poem, added a title picture to a previously written poem, and reorganized the entire section. I decided to put up the new short story now, despite what I wanted to do before. It's incredibly morbid, and but I'd like you to know that I'm not always like this. The next story I put up will be funny, I pormise. The story is called Placidity, and it's about school shootings.
- Last Update: 9 / 12 / 01: A fairly small update. I added five new poems, some new quotes, and updated the urls page. I have a new short story that I actually finished, too, but I'm going to put it up next time I update.
- Last Update: 8 / 17 / 01: I've gone over and done some touchups to the page, as well as added new stuff. There are 4 new poems, and I'm adding pictures for some of the ones that didn't have them before. As usual, I've added more quotes. I would like to feature two things in this update, the first of them being a new Serious Writing, which will perhaps be the most controversial one I ever post here. It's about religion. The other thing I'd like to point out is that I actually wrote a Short Story and finished it! *does the Dance of Joy* I just sat down one day and said I wouldn't do anything else until I finished it. It's slightly funny, slightly morbid. It's like a sadistic slice of life story.
- Last Update: 7 / 10 / 01: Added 8 new poems to the Poetry Section, one of which I think is the best I've ever done. I actually did another Funny Writing, this one about the Junior Prom I went to. As usual, I've updated the Quotes, and actually have two new Links.
- Last Update: 6 / 5 / 01: Fixed the few mistakes that always come with an update. The new picture on the Stories Page now works, and there is an additional poem in the Poetry Section that I forgot to add in last time. That screwed up link to the Happy Hamsters in Hell audio trailer is fixed, as well.
- Last Update: 6 / 4 / 01: As usual, I've added more Quotes to the Quotes Section. I've changed the Stories Section, so it's not as tacky as it was before. I actually have previews of some of the stories I'm working on, now. The Poetry Section has also changed, with a lot of new stuff being added, and pictures being added to a few old ones. For each poem, I'm trying to have a picture to accompany it, or at least make the text look interesting.
- Last Update: 4 / 14 / 01: Finally decided to take "The New" out of the title of this page. I don't think it qualifies as "new" any more.
- Last Update: 4 / 5 / 01: Looks like Mtgtees.com is really gone. I'm also going to have to look into getting a new guestbook. In the way of stuff that does still work on my page, I've added two new things to the Serious Writings Page. I've also added 3 new poems to the Poetry Section, but sorry, none of them are funny ones. The Quotes Section has been majorly updated, and there are a few new Weird Urls.
- Last Update: 1 / 1 / 01: Optimistic Me --> "It's 2001! Yay!" Pessimistic Me --> "And?"
- Last Update: 12 / 27 / 00: Wow. Just wow. Mental note: never update the page, then leave on a holiday vacation. At least 12 major errors will spawn in the webpage over that short span of time.
- Last Update: 12 / 25 / 00: *hums the tune to Deadbeat Holiday*
- Last Update: 12 / 22 / 00: I made a few minor cosmetical changes and fixed some booboos. On a grander scale, I finally redid the Weird Band Names Section, added a new writing to the Serious Writings Page, updated the Contact Section with more recent info, added a few new urls to the Weird URLs Page and actually a new sound to the Sounds Page! It's been a while since I made any of those. I've revamped the Links Page, and given a totally new summary for each link (I also removed some obselete ones). As usual, I've added a ton of new quotes to the Quotes Pages, and have had to split it up into a third page. In the near future, I'm also going to be changing the Poetry Section. It won't be just depressing one track stuff, but also a bunch of other things I've done in my Creative Writing class.
- Last Update: 10 / 31 / 00: I dressed up as a Vampiric Chippendale Dancer for Halloween. Many mixed responses.
- Last Update: 10 / 8 / 00: Major update, but first the small stuff. I added some minor updates to the Weird URLs Page, the Links Page and the Midis in the music section. I've added a ton of new quotes and even a new Quotes Page, the Quotey Quotes Page, for what you might expect to find on a real quotes page. To compliment the Weird URLs and Weird Band Names, I've added a small section for Weird CD Names. I've also added the beginning of the Tournaments Page, which is a section dedicated to the multiplayer game tournaments my friends and I often have at the school computer lab. It will have a section for each different game (Warcraft, Marathon Infinity, and Starcraft) we've played, and screenshots and films (For Marathon. For the others, I'll have detailed occurences written out that you can go to). Probably the largest update I've done is the Stuff Section. I have fully organized it, split it up and added two new sections (Three, including the Quotey Quotes.) The two other sections are Serious Writings and Funny Writings, which are just little things I've written on topics you might find entertaining. Check it out. Oh, and I also added an extra 0 to all of the previous updates below this one, as for some reason, they were all missing one.
- Last Update: 7 / 6 / 00: I did minor updates all over the page, added a couple of new html tricks (You might have noticed). There are a lot of new quotes, some new URLs, an update on why you aren't seeing many stories being posted, and an actual cookie on the cookie page. I'll put up some big new stuff soon enough. Hopefully.
- Last Update: 7 / 4 / 00: Ha ha! Boom! Celebrating America. You know, for the longest time, I was like a lot of other people (Hard to believe, but bear with me, here) in not being very proud of our country. All the conspiracies, the horrible things we've done, all the problems we've created . . . Well, I've finally come to a decision on how I feel about America. I am now proud of America, and I'm not proud of too much. But I just realized: better here than anywhere else (No offense to Cuba . . . well . . . not REALLY . . .).
- Last Update: 6 / 8 / 00: Aaah. Summer vacation.
- Last Update: 5 / 12 / 00: The Quotes now have their own section (and they're very happy). The Music Section has changed, giving rise to a subsection about five of my favorite bands. I also have finally started my Creative Writings Section, with my personal views as a student and a person on the School Shootings. Last and probably least, I added a little bit to the poetry page. The mood hasn't changed.
- Last Update: 2 / 2 / 00: I added a bunch of new quotes, some more urls and and entirely new section: Weird Band Names!
- Last Update: 1 / 1 / 00: *laughs at the losers who thought the world was going to explode*
- Last Update: 12 / 4 / 99: Finished the overhaul, gave the quotes page order and added the Magic: the Gathering T-Shirts Section.
- Last Update: 10 / 31 / 99: Smash them pumpkins!
- Last Update: 10 / 30 / 99: Fixed the link to Wizards of the Coast on the Links Page
- Last Update: 10 / 17 / 99: Fixed some minor errors in the quotes page (and added a few more), the Mall Page and the Hamster Page. I also added a link to the Mall page from the Stuff Section, which I had forgotten to do.
- Last Update: 10 / 15 / 99: Okay, there are so many new things updated that I'm just going to list them: the urls, the words, the quotes, the hamsters, the music section, the links, and added a totally new thing, which is in the stuff section. Oh, hell, just go to everything again.
- Last Update: 8 / 18 / 99: Added 50-75 good new quotes and actually fixed the "rice.mov" from the sounds page! Wow!
- Last Update: 7 /13 / 99: Updated the Links Section, Quotes Section, Words Section, and added some poetry in the Stuff Section. There is also an interview about an upcoming story I'm writing, called Happy Hamsters in Hell. Check out the audio trailer!
- Last Update: 6 / 7 / 99: Changed the Contact Information area, because I don't go to some places anymore.
- Last Update: 6 / 7 / 99: A few sounds that I made a while ago but never put up and a lot of new quotes. I have over 19 pages of quotes now! I need a better ordering system . . .
- Last Update: 4 / 25 / 99: Added 3 sounds, more quotes and more urls.
- Last Update: 2 / 15 / 99: Added 5 more sounds, fixed a couple of errors, and added about 6 or 7 new URLs.
- Last Update: 2 / 13 / 99: I am updating once again and considering just getting rid of the other page, index2.html. I've also aded a completely new section, known as the Sounds section. Check the sucker out.
- Last Update: 1 / 1 / 99: *blows little honky horns and throws confetti*
- Last Update: 12 / 28 / 98: Got back from my vacation to Oregon and updated all the little link problems on the page that made it so you couldn't go outside the site. I also added more URLs to the Weird URLs section, definitely a must-see!
- Last Update: 12 / 25 / 98: Bah Humbug.
- Last Update: 12 / 12 / 98: Nothing really big today. I just added two quotes and am planning on putting up something new in the stuff section.
- Last Update: 12 / 6 / 98: The Sunday I sat down and started a Derek's Lair page with Frames. I also added the Complete Waste of Time Section and a link to my sister's page. However, the frames page was publicly announced on 12 / 9 / 98 when it was finally finished that day.